JD EDWARDS RELEASE 9.2.5: ARE YOU READY FOR THIS?
Last week Oracle officially announced the release of JD Edwards EnterpriseOne Tools Release 9.2.5. There is a lot of interest in this release because it is the last version that will support 32-bit processing, however there is so much more to get excited about in this release.
SYSTEM AUTOMATION: WEB-BASED PACKAGE BUILD & DEPLOY
The web-based package build and deployment can now be run though the JD Edwards EnterpriseOne web interface. This means you can now save huge amounts of time (aka money) as package builds can be automated and scheduled, sending the related notifications through Orchestrations.
This has the potential to significantly reduce the amount of time spent on build/deploy processes, but it also cuts out a lot of manual processes, reducing errors and allows you to speed up your dev/deploy processes.
Other enhancements, at the System Automation level are all designed to support faster development/deployment cycles and include:
Virtual batch queues
Development client simplification through the removal of the local database requirement.
Automatic identification and notification of Kernel failures (with the details).
OMW (object management workbench) enhancements mean that objects can now be transferred through a browser-based application within the E1 interface.
DIGITAL TRANSFORMATION: INTRODUCING THE ASSERTION FRAMEWORK FOR JD EDWARDS ORCHESTRATIONS
With faster development and deployment cycles comes continuous improvement of the Enterprise capability to digitally transform with faster testing and the ability to artificially create an end user feedback loop which is introduced early in the cycle.
The JD Edwards Assertion Framework feature enables you to define the objective success criteria of an Orchestration and we can see how it can also be used to improve testing capabilities, as you could use this feature to create and run test scripts via Orchestrator.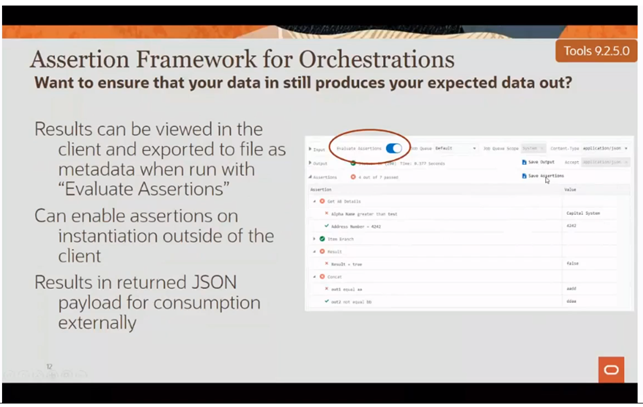 ALLOW VARIABLES IN REST FILE UPLOADS
Orchestrator can upload various content types, for example EnterpriseOne media objects and files to a REST-enabled CMS. Orchestration designer can use variables in the definition of the connectors which means that the orchestration can dynamically determine the file to upload.
There is also loads more to look at here too:
Enhanced configuration between Enterprise Servers and AIS: now you can more easily configure the segregation of AIS servers within a single enterprise server: for example, run dev, test, prod environments from a single Enterprise server with clearly defined AIS servers.
Improved AIS session initialization configuration, enabling the SysAdmin to conserve system resources.
Extension of the E1 user session to externally hosted web apps to improve the user experience.
Optimised Retrieval of Large Data sets by Orchestrator: flexible and configurable to enable the retrieval of very large data sets.
For end users, the application help feature has been improved, so that end users can search separately for E1 documentation and UPK documentation.
There have also been form extensibility improvements and significant enhancements to the Enterprise search features.
THE END OF THE LINE FOR 32-BIT PROCESSING
Oracle say that making the shift to 64-bit processing enables customers to future proof their JDE environments, the switch to 64-bit will also improve performance of your installation. However, you would be right to start scratching your head as you ponder what's going to happen to some of the third party integrated software in use across your enterprise.
9.2.5 is the last version of JDE that will come with 32-bit support, so if you haven't already begun planning for 64-bit then your homework begins now.
While 32-bit applications are becoming less common, most businesses that use JD Edwards will still have some applications in use that are currently integrated or forming a part of an existing workflow. Checking how these might be impacted when the removal of 32-bit support occurs (tools 9.2.5) must be planned for.
The sorts of applications to consider are the RFID and bar-code scanning software, older versions of Microsoft Office Applications, or even apps that support old school technology that is rarely used these days – but might still be required, such as Fax or Voicemail related applications.
THE LAST WORD: SECURITY AND OPEN PLATFORMS
Support for the old Microsoft Internet Explorer browser has officially ended, while the certification for IBM I 7.4 on POWER Systems has been updated.
This version brings in support for long and complex database passwords, as well as the automated TLS configuration, which eliminates the need to run multiple platform-specific commands for the import of certificate files into Java (keystore and truststore) files.
These notes here cover the ones that administrators and end users are most likely to find significant, however this is major update and we recommend that you read the full list of release notes, available on the learn JDE web site https://docs.oracle.com/cd/E84502_01/learnjde/announcements.html
For support in the planning or implementation of this update please get in touch.