A seamless, interactive, graphic dashboard that allows Managers to data mine information at the click of a button.
Greentree IQ allows you to change the filters while looking at the data and have immediate access to questions. Want to know who your top customers for sales in a particular area, IQ can show you this? Want to know how this month's sales compare to the same time last year, IQ can show you this, without delay.
Users have the ability to approve timesheets or purchase orders, run reports, set alerts and provides a valuable To Do list to help prioritise actions. With the addition of IQ, we can add to Greentree's workflow desktops to allow everything to happen in one place.
Greentree IQ in The Workplace
A Sales Manager may have on their Greentree desktop a list of open quotes, opportunities, follow-ups, and approvals required. But they may also want to know information about the types of products being sold, how much money is being made on selected lines, or any unusual movements. IQ is interactive and allows you to change filters while looking at the data to answer these questions.
Finance personnel can provide faster responses to their questions and those of the broader business. Filters can be set up to provide immediate access to debtor information to help improve cash flow. Up to date information on expenses provides opportunities to look for efficiencies.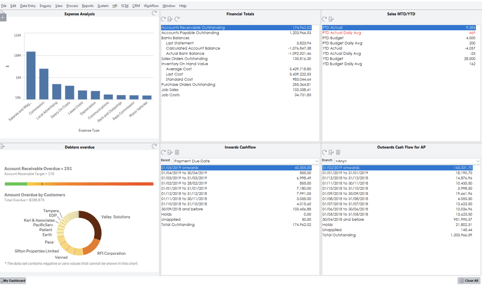 Manufacturing & distribution businesses can access how much stock is on hand, inventory turns, slow-moving products or if the change in the cost of a component is having an impact on costs and productivity.
In the project-costing world, Managers can access information such as utilisation of employees or how they are running against the budget. Colour coding for business rules means that if an action changes from green to orange to yellow to red they can see it now and act.
Knowing where to direct your attention, makes everyone in the organisation's working life better.