Control All The Moving Parts With A Supply Chain Management Control Tower
Can you imagine what a supply chain tower might look like, or the power of seeing the information you need in a single place? Introducing the Board Supply Chain Control Tower which provides end-to-end sales and operational planning and execution.
What Is A Supply Chain Control Tower?
Put simply, a Supply Chain Control Tower provides a single screen overview of your Sales and Operations Planning. An overlay view of all the complex moving parts that form your Supply Chain, from where you can drill into any one of those moving parts for greater depth of insight.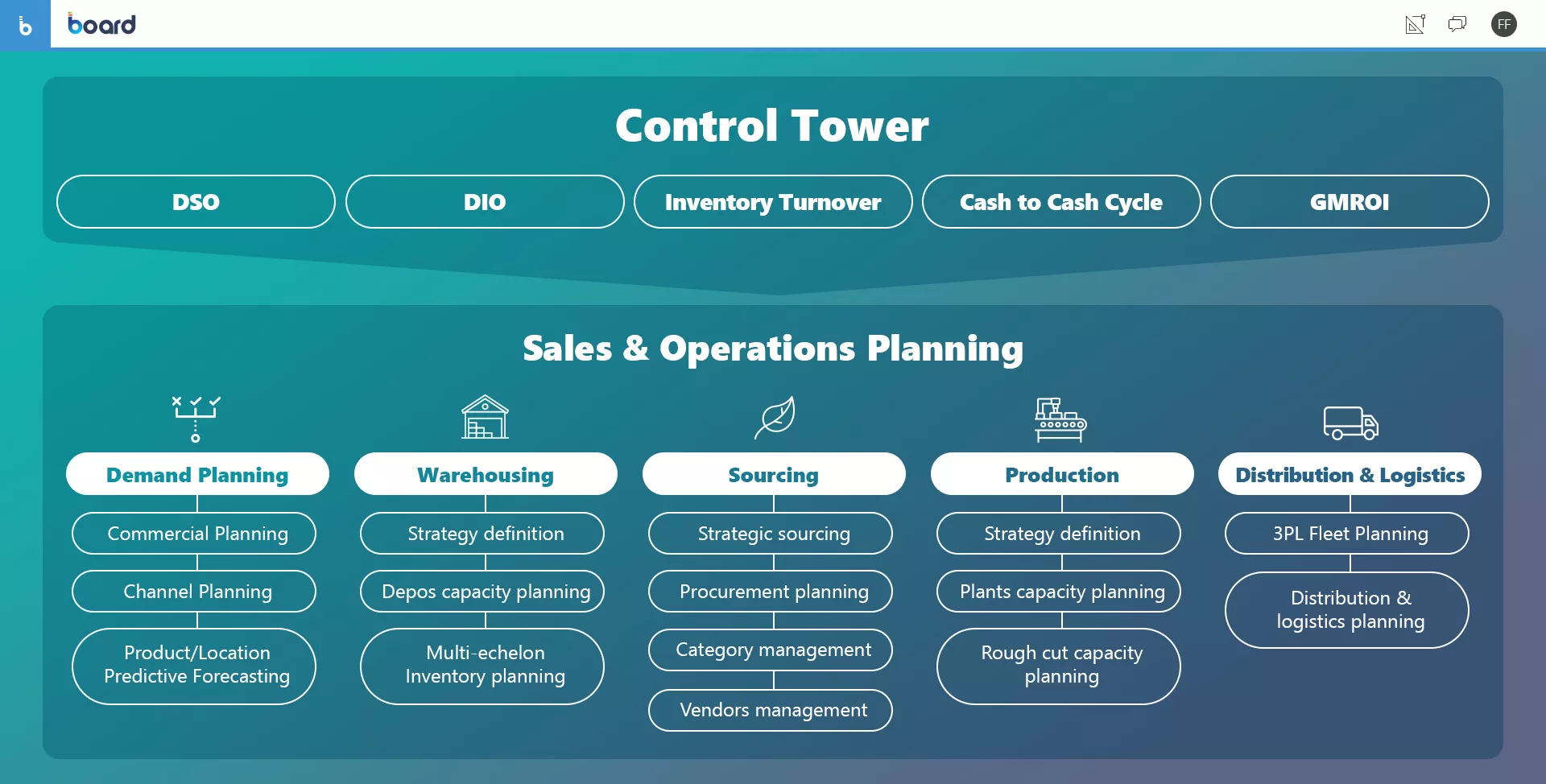 Simulate And Forecast Business Reponse Within Your Supply Chain Control Tower
In the real world consumer demand fluctuates and supply chains get interrupted, the impacts on your business are rarely fully understood until they've happened, which means that you're left trying to respond to situations that were in the past. Meanwhile responses themselves take time to formulate, prepare for and implement. It takes even longer for you to see how effective those responses may have been.
Understanding the potential impact of your actions before you take them provides an incredibly powerful competitive advantage. With Board's platform you're able to simulate real world scenarios, such as a sudden surge in consumer demand coupled with a rise in fuel prices and forecast what your response to those scenarios should be if they occur.
The power and value of knowing what the right course of action for your business to take in any situation will give your business an incredible competitive advantage.
Automated Data Forecasting For Improved Demand Planning
The combination of advanced process modelling with automated data forecasting – predictive analytics – greatly improves your demand planning effectiveness because it improves the accuracy of your predictions with its ability to deeply analyse the ever changing needs of your customers.
Board also improves collaboration throughout the planning process, while helping you to understand changes to your forecasting and the underlying reasons. The range of areas across your business that will benefit from the unified Board platform stretches beyond just the Supply Chain and Demand Planning operations, but also into product and category lifecycle management and marketing, as you're able to model the impact of promotions and external events.
Advanced Supply Planning
Imagine if you could improve your ability to manage demand against capacity by improving the planning across all your supply chain processes. Board's unified platform for Supply Chain Management lets you perform all your supply planning activities, and fully integrate strategic sourcing and procurement planning with production planning and inventory planning.
Ndevr's team are able to help you realise maximum value from your Board investment.
4 Steps To Turn CPG Data Into Actionable Insights
Learn more about how Consumer Packaged Goods Companies have overcome key planning and analytics challenges to drive growth
This E-Book from Board outlines
how to overcome several key CPG planning and analytics challenges
why an advanced S&OP and IBP strategy is essential to success
how to drive a consumer-first mindset across the business
Talk To Us About How Board Could Improve Your Supply & Demand Planning