REOPENING AFTER LOCKDOWN – 7 ACTIONS YOUR BUSINESS NEEDS TO TAKE NOW
Your Business Playbook To Prepare For Reopening After Lockdown
Ongoing lockdowns in Victoria have created havoc for business, however our economy will open up again and businesses trying to rebuild need to assess their situations and formulate a plan.
From your business model to financial health, to the ongoing sustainment and viability of the old way of doing things versus our new reality.
The impact of health and safety issues to scenario planning and forecasting means that everything has now changed, from the way your employees move around your warehouse to how many customers you can fit in your store.
How will you retain and acquire customers, and how will you package and price your offerings and payment terms?
This NetSuite white paper provides an action plan in the form of a checklist for each area of your business. This is your playbook for what comes next.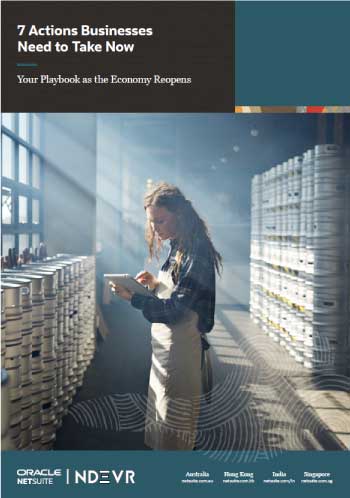 If you'd like more information about NetSuite or any other ERP, Ndevr are able to help. We've been working with ERP systems for over 20 years and our people are trusted advisors to many Australian corporations.
To see some short, role specific, demonstrations of NetSuite ERP please visit our YouTube channel where we have curated several for you.
If you'd like a demonstration or to ask any questions about Netsuite ERP please don't hesitate to get in touch directly via email or phone.
GET HELP BUILDING A BUSINESS CASE FOR AN ERP SYSTEM TO REDUCE YOUR OPERATING EXPENSES
TALK TO US ABOUT ERP SYSTEMS DESIGNED TO SUIT YOUR BUSINESS
Contact Us By Email ndevr@ndevr.com.au