Get together with other JD Edwards users in Australia to learn new JDE E1 tricks, and how to make the most of existing functionality, and all about the different partner products that can enhance your instance of JD Edwards and make doing business even easier.
Events will be held regularly, please register below
OCTOBER 31 – Building Effortless Business Dashboards
Make your JDE data come to life using the advanced presentation functions in mobie™.
Join ReportsNow and Ndevr to witness how to quickly and easily build and distribute incredible dashboards that create a compelling business narrative with eye-catching graphics. In this demonstration you will learn to effortlessly produce dashboards that deliver tangible business results.
Build modern and interactive displays with your JDE data Merge data from JDE and non-JDE systems to produce a comprehensive business picture Create custom visuals and turn any image into a functional dashboard graphic
JD Edwards Education Breakfasts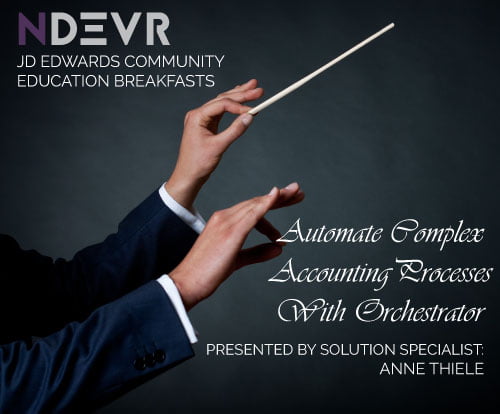 AUGUST 20, 21, and 22: How to Automate Complex Accounting Processes in JD Edwards Using Orchestrator.
Using the example of Intercompany Invoicing, Anne Thiele will show you how to set up an Orchestration so that the entire process around intercompany invoicing is automated, eliminating room for error, and saving time.
This scenario will demonstrate how orchestrator is initiated from a JDE application, as well as scheduling orchestrations to occur, and how notifications can be applied.